Biindigen: Indigenous Learning Circle
Biindigen: Indigenous Learning Circle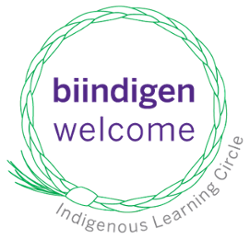 The Indigenous Learning Circle will give Western staff and faculty, who are curious to learn with and from Indigenous Peoples, an opportunity to explore the landscape of Indigenization and reconciliation through discussion and various mediums including books, documentaries, and podcasts.
The  Indigenous Learning Circle  is co-organized by Western  Libraries, Research, Student Experience and Equity and Human Rights Services and the Office of Indigenous Initiatives.

Meeting at least four times a year, the group will socialize, listen deeply, and engage in critical conversations around vital topics related to Indigenization, decolonization, and reconciliation at Western.
Our goals are to:
Create a space on campus for conversations touching on a wide range of Indigenous-focused themes and topics by engaging with Indigenous stories and storytellers
Foster a learning community between faculty, staff, and Grad students around truths about Indigenous heritages and histories in Canada; exploring our individual and collective roles and responsibilities in reconciliation; and respectfully engaging with Indigenous ways of knowing and being
Empower participants to seek out more resources, and continue these conversations beyond our circle - in classrooms, at home and as Treaty peoples
Join the   Indigenous Learning Circle's OWL site  today for updates, events and more information.
Biindigen's Indigenous History Month Challenge 2023
Biindigen's Indigenous History Month Challenge 2022