Indigenous Learning Bundles
Maatookiiying gaa-miinigoowiziying (Sharing Our Gifts)
Maatookiiying gaa-miinigoowiziying (Sharing our Gifts), or Indigenous learning bundles, is a university-wide curriculum project that places Indigenous Peoples, local Indigenous knowledges, and collaborative approaches at the center of curriculum design and implementation innovation at Western University. Inspired by Carleton University's Collaborative Indigenous Learning Bundles , this unique Indigenous-led project responds to Western University's chronic underrepresentation of Indigenous content in formal curriculum across Faculties as reported in an internal academic asset mapping process at Western ( Indigenous Curriculum & Learning Committee, 2021 ). Embracing an Indigenous approach, the purpose of the Maatookiiying gaa-miinigoowiziying project is to create a series of digital teaching modules (also referred to as learning bundles), which can support Western and Affiliate instructors in better including Indigenous knowledges and voices in their courses in culturally and ethically response ways.
Encapsulated within the project's Anishnabemowin (Ojibwe language) name –Maatookiiying gaa-miinigoowiziying (Sharing our Gifts) – honours the local Indigenous paradigm of "gifting" which centers on Indigenous ontologies and ethical responsibilities for working with and sharing Indigenous collective knowledges in ethical ways. Considering the holistic nature of Indigenous knowledges, learning bundles are not geared towards undergraduate and graduate competencies, and they cover a broad range Indigenous topics and themes that are highly relevant across disciplines.
7 Guiding Principles
To support a common philosophical direction, the Indigenous curriculum planning framework (above) was created. The framework, illustrated by Urban Iskwew , draws on 7 guiding principles based in Indigenous educational scholarship including 4Rs in First Nations education - respect, relevance, responsibility, reciprocity, (Kirkness & Barnhardt, 1991), and the added principles of relationships and refusal (Johnston, McGregor & Restoule, 2018) and gifting (Kuokkannen, 2007). The Indigenous framework guided Indigenous lead collaborators and design teams when creating the bundles.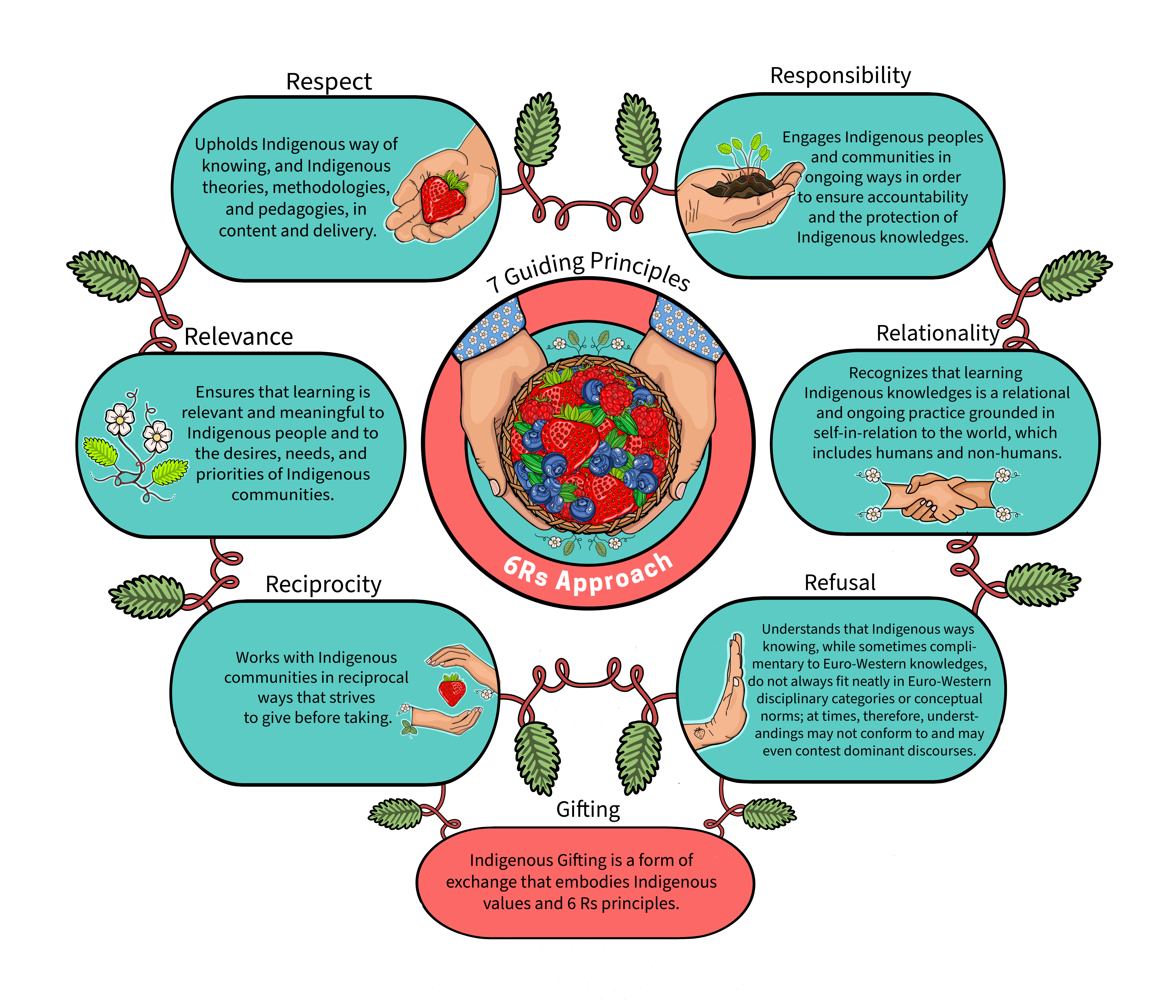 (Brunette-Debassige 2021)
Collaborative Approach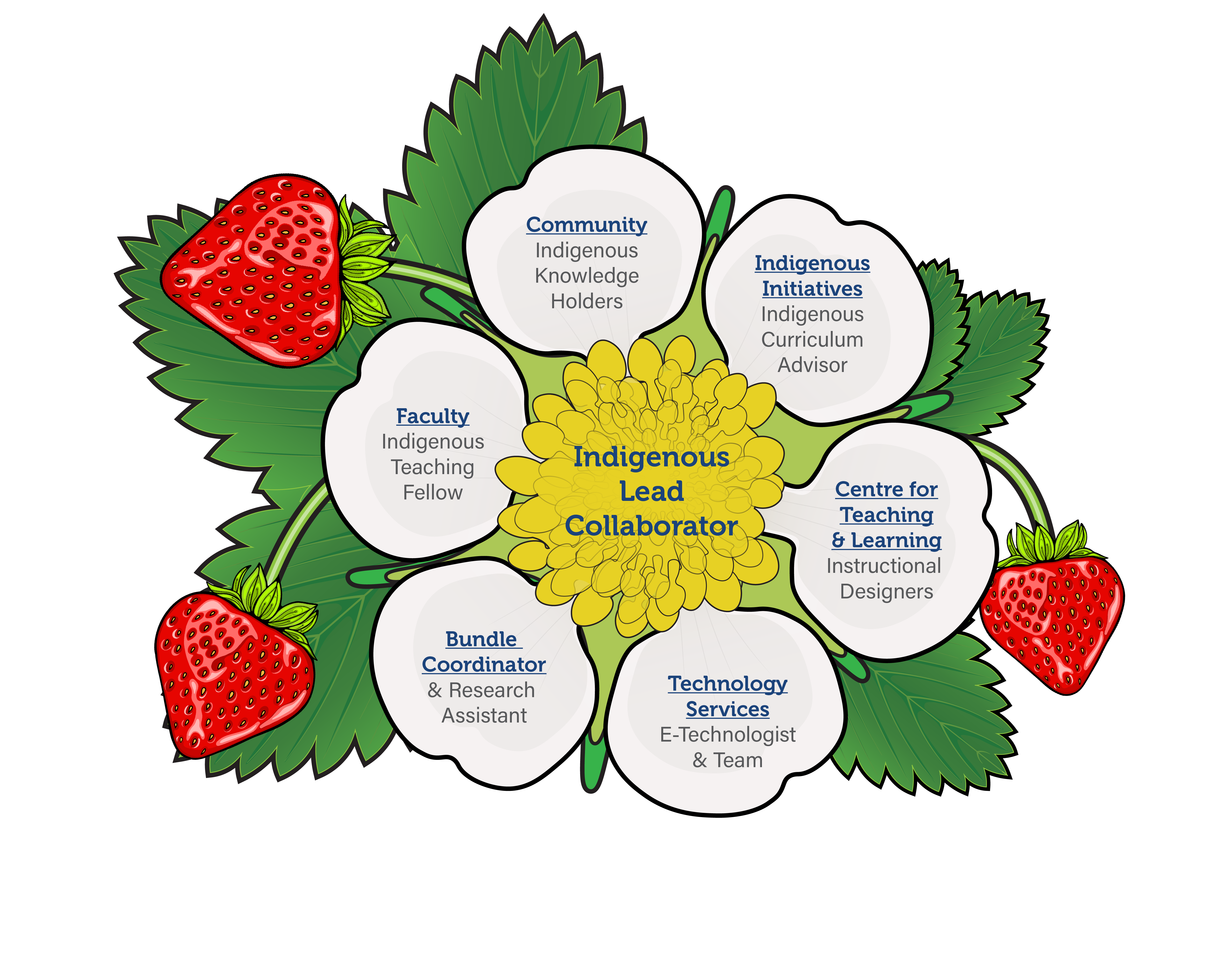 Western's Maatookiiying gaa-miinigoowiziying project embeds collaboration throughout the curriculum design and implementation process, upholding "Indigenous intellectual sovereignty" and the integrity of Indigenous knowledge exchange while simultaneously engaging non-Indigenous peoples in reconciliation efforts crossing a range of players including instructors, staff, students and community members on and off campus.
Project Goals
The Maatookiiying gaa-miinigoowiziying project's overarching goal is to collaboratively create a digital repository of Indigenous-led teaching resources that privilege Indigenous knowledges and perspectives in teaching and learning at Western. Foundational to this goal is the privileging of ethical practices in the gathering and sharing of Indigenous knowledges in the academy. While these digital resources center on holistic Indigenous knowledge frameworks, they have wide cross disciplinary relevance covering broad topics and themes. The project digitizes and makes these resources available to Western and Affiliate instructors to increase the accessibility and inclusion of Indigenous knowledges across the university. By digitizing these resources, the project also strives to release the burden of continuously sharing the same information about Indigenous knowledges often shouldered by existing Indigenous faculty, staff and students at Western. Over the years, this underrepresented group, on and off campus, have expressed an overwhelming institutional demand for sharing their knowledges. This digitization work aims to help increase access and mobilize Indigenous knowledges in appropriate ways that care for the integrity of Indigenous knowledge and Indigenous community's time and capacity for sharing.  
References
Kirkness, V.J., & Barnhardt, R. (1991). First Nations and higher education: The four R's – respect, relevance, reciprocity, responsibility. Journal of American Indian Education, 30(3), 1–15.
Kuokkanen, R. (2007). Reshaping the university: Responsibility, Indigenous epistemes, and the logic of the gift. UBC Press.
Johnston, R., McGregor, D., & Restoule, J.-P. (2018). Introduction: Relationships, respect, relevance, reciprocity, and responsibility: Taking up Indigenous research approaches. In R. Johnston, D. McGregor, & J.-P. Restoule (Eds.), Indigenous research: Theories, practices, and relationships (pp. 1-21). Canadian Scholars.
There are many different types of bundles in Indigenous societies including personal healing bundles, sacred ceremonial bundles, and community bundles. While this project draws inspiration from the concept of an Indigenous bundle, this type of bundle is distinct and for academic learning purposes.  The Indigenous learning bundles are a grouping of online teaching resources geared toward all students studying in the academic learning environment. Each learning bundle centers on an Indigenous topic or theme (e.g., Indigenous women or Indigenous leadership) and strives to privilege Indigenous conceptions, theories, ways of knowing, and epistemologies. Each bundle is geared toward Western instructors; however, the content within the video presentations is intended for undergraduate learners studying across disciplines. 
Each Indigenous Learning bundle consist of:
a list of learning outcomes on the Indigenous topic or theme; 

 

a 40-minute presentation or series of shorter vignettes addressing the topic or theme; presentations will be developed and delivered by the Indigenous Lead Collaborator and may take various forms including video lectures, PowerPoint presentations, and/or video/audio clips; 

 

a 30-minute conversational visit with an Indigenous Elder, Indigenous Knowledge Holder, or Indigenous specialist in the topic area; 

 

a list of recommended teaching prompts for instructors and students to take up presentations more deeply; 

 

a sample list of classroom and online instructional strategies relevant to the topic; 

 

a list of academic readings upon which instructors can draw to deepen student learning at the undergraduate and graduate levels; and
a list of recommended assignments, assessments, and other relevant resources.
In June 2022, the first six bundles were launched, including:
Orientation to Indigenous Knowledges (Lead Collaborator: Candace Brunette-Debassige)
Indigenous Lands, Spaces and Places (Lead Collaborator: Sakihitowin Awasis)
Indigenous and Black Solidarities (Lead Collaborator: Erica Neeganagwedgin)
Indigenous Leadership (Lead Collaborator: Candace Brunette-Debassige)
Indigenous Women and Resilience (Lead Collaborator: Jennifer Komorowski)
Indigenous Storytelling and Media Representation (Lead Collaborator: Sara Mai Chitty)
Over the next year and a half, we will launch several new learning bundles, including:
Indigenous Sovereignty: Data, Governance, Justice, and the Land (Lead Collaborator: Robyn Rowe)
Indigenous Research (Lead Collaborator: Candace Brunette-Debassige)
Indigenous Research Methods (Lead Collaborator: Candace Brunette-Debassige)
Indigenous Resistances (Lead Collaborator: Melissa Schnarr)
Indigenous STEM (Lead Collaborator: Dennis Michaelson)
Pre-learning 
We recognize that increasing instructor's capacities to respectfully include Indigenous perspectives and knowledges in their classrooms includes preparation and ongoing learning supports. With this in mind, our project requires that all participating instructors complete an Orientation to Indigenous Knowledges bundle (1 hour in length).  
In addition, we encourage Western and Affiliate instructors to explore the following resources prior to engaging with the bundles:
Community of Practice 
Participating instructors will further be invited to engage in our Community of Practice. A community of practice (CoP) is a group of people who share common interests in a topic, and who intentionally come together to fulfill shared goals. Our community of practice will be guided by an Indigenous relational approach to learning. Our intention is to bring educators together in person at least twice per year to learn from Indigenous peoples, and each other, about how to ethically include Indigenous knowledges and perspectives in university teaching and learning. While participation in CoPs is optional, it is highly encouraged. Your participation will help us to strengthen the program in the future. To learn more about our Community of Practice, contact us at indigenousbundles@uwo.ca
2022/23 CoP Dates:
Friday October 7, 2022 - 9:30AM to 12:30PM
Friday November 25, 2022 - 9:30AM to 12:30PM
Friday January 20, 2023 - 9:30AM to 12:30PM
Friday March 3, 2023 – 11:30AM – 1:00PM
Friday April 14, 2023, 9:30AM – 12:30PM
2023/24 CoP Dates will be posted soon!
One-on-One consults with the Indigenous Curriculum & Pedagogy Advisor
The Office of Indigenous Initiatives is an active partner in this project. OII's Indigenous Curriculum and Pedagogy Advisor is available to support instructors in embedding bundles into their courses. The Advisor is available by appointment by contacting: indigenousbundles@uwo.ca
Who can access and use bundles?
Western instructors start the process by signing up here. The Indigenous learning bundles are digitally archived and housed on Western's Owl platform. Once instructors sign up, they will be given access to preview video links and instructor guides. If an instructor determines that a particular bundle aligns with their course(s), they can work with our team to import the bundle into their existing or new OWL course site(s) (if applicable) or embed sections of the content into their course syllabus or other platforms to share with students.
How do instructors access and preview bundles?
There are different parts of a bundle. The primary part of each bundle is a video presentation (or a series of shorter video presentations) which are intended to be used as is. Each bundle will further include an instructor guide to support instructors in their use of the bundle, including resources (e.g. readings, instructional strategies and helpful resources).
Do instructors have to use the entire bundle as is?
There are different parts of a bundle. The primary part is the video presentation or a series of shorter video presentation which are not recommended to be parceled out. The instructor guide on the other hand offers many different options for instructors to choose from (e.g. readings, instructional strategies and helpful resources).
How do bundles align with Western degree outcomes?
While every Indigenous Learning Bundle has its own 3-4 learning outcomes, all of the bundles align with Western's degree outcomes.
Read the Year One Report from the Indigenous Teaching Fellow leading the bundles project, Dr. Candace Brunette-Debassige.
For more information please contact: indigenousbundles@uwo.ca or  sign up to use the bundles here.